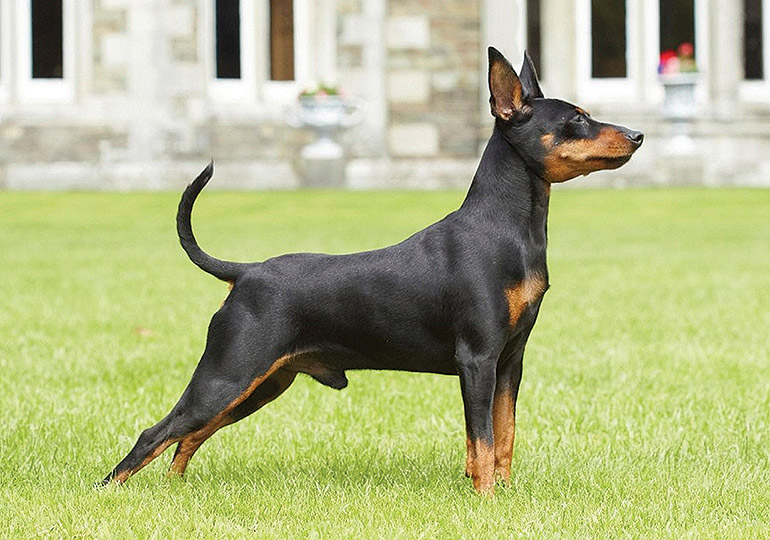 GROUP 1 - TOYS
History
The Miniature Pinscher and the Dobermann are not related; there is no relationship between the two breeds. The Miniature Pinscher was first recognised around 230 years ago, compared to the Dobermann approximately 120 years ago.
The Miniature Pinscher is still known in Germany today as Zwerg (or dwarf) Pinscher. However, it can also be referred to as the Reh (or deer) Pinscher, because of its resemblance to a small red deer. The German word pinscher conveys a similar meaning to Terrier. Bred to catch rats, it was capable of doing its work in confined spaces and has plenty of Terrier characteristics.
A breed standard for the Miniature Pinscher was created in 1895 when the Pinscher Club was formed in Germany. Stud records and breed standards were also established at that time. Prior to that, its ancestry is a bit of a puzzle. It may have been bred down from the German Pinscher and other breeds, but as there are no written records, this has not been proven.
George Byron of Sydney introduced the Miniature Pinscher to Australia in 1958. He imported a pair of red dogs from England, both of which were of American bloodlines. After a short time, well-known veterinarian, Dr Harold Spira worked to promote the breed, helping to get it off the ground in Australia. More imports followed as the Miniature Pinscher grew in popularity.
Temperament
The Miniature Pinscher is naturally a proud and alert dog, with a spirited presence and temperament to match.
Appearance
The Miniature Pinscher is a well balanced, sturdy, compact, elegant, short coupled, smooth-coated toy dog. Naturally well groomed, proud, vigorous and alert. 1.
It has a precise hackney gait, fearless animation and complete self-possession. It stands between 25 and 30 centimetres high at the withers.
The Miniature Pinscher comes in all shades of red, black with tan markings, chocolate with tan, and blue with tan. It is most commonly seen as the red or the black with tan, followed by chocolate with tan and then the rare blue with tan.
Maintenance
The breed is very low maintenance. An occasional bath and a regular rub down sees a Miniature Pinscher looking smooth and smart. Nail trimming is also recommended fortnightly.
Health
It has very few health problems and requires little veterinary care, other than its annual vaccination and health check. Luxating patellas do occur occasionally, as with many toy breeds. But this has recently become a rarity in the Miniature Pinscher, which can live up to 14 years.
Suitability
The Miniature Pinscher is suitable for any size premises, from a large house to an apartment. It is an extremely good watchdog, which is a great advantage for an elderly owner or people who live alone.
It loves to play games and go for a regular run or walk in the park. The breed is very trainable and is also prized as a willing Obedience and Agility exhibitor.
While the Miniature Pinscher isn't normally an escape artist, it's still a good idea to check fences for any small holes that it might be able to fit through. If a hand can fit through the hole, so can a Miniature Pinscher.
As with any other breed, it is not wise to let them off lead in unfenced areas if they aren't well trained.
It is a robust, high-spirited dog with a big attitude. Fearless and easy to care for, the Miniature Pinscher truly is the King of the Toys.
Words: Jackie Hollings (June 2011)
1. Source: www.ankc.org.au
In Conclusion
Now you know a little about the Miniature Pinscher, you may think that this is the dog for you. Before you make a decision, please make contact with the breed club or your State controlling body for purebred dogs. They will be able to give you information about available puppies and also suggest dog shows where you can see the breed and speak to breeders. In this way you will gain a better perspective of the Miniature Pinscher and its needs, and whether this breed would suit your lifestyle.